Million Girls Moonshot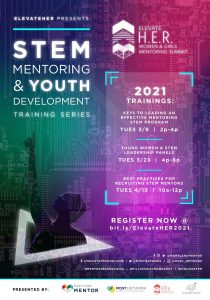 As part of our Millions Girls Moonshot initiative MOST & Maryland MENTOR are partnering to provide training focused on STEM and Mentoring with an emphasis on Women in STEM in March & April. This series will provide youth mentors with the tools and knowledge they need to build robust youth development programs in science and technology.
STEM in OST is a bridge between youth development and education that offers young people hands-on, intentional and relevant learning opportunities. The OST environment is perfectly suited for students to pursue STEM avenues and inspire further exploration of STEM careers.
The STEM Supplement to the Elements of Effective Practice for Mentoring training will provide additional research-informed recommendations for youth mentoring programs with a science, technology, engineering, or mathematics focus.
Training 2: Million Girls Moonshot Panels - March 23rd, 2021 at 4pm EST
Our first panel features career women in the STEM field about their journeys, challenges and triumphs. For our second panel, we spoke to young women pursuing STEM careers about how they are making it happen!
Panel 1:
Gia Grier McGinnis, Executive Director of UMB CURE Scholars Program
Brittany Young, Founder of B-360
Stephanie Withey, STEM Educator
Talmesha Richards-Smith, Principal Manager of National GEM Consortium
Moderated by Gretchen LeGrand, Co-Founder & CEO of Code in the Schools
Panel 2: 
Jordan Bilal, MERIT Health Leadership Academy
Avery Walker, Girl Shouts of Central Maryland
Claudia Walker, Meyerhoff Scholars Program
Lydia Vassiliadi, UMD-4H
Moderated by Chetana Jadhav, Secretary Board of Directors at the Folded Crane Foundation
Training 3: Best Practices for Recruiting STEM Mentors - April 13th, 2021 at 10am EST
Are you a mentoring or OST program struggling to recruit STEM focused mentors? Then this training is for you! Join the MOST and Maryland MENTOR teams as we talk best practices, the where, when and how to recruit STEM mentors!
Panel:
Gabriella Gonzales, Deputy Director of the Intel Foundation
Dr. LaTasha Wright, Chief Scientific Officer at BioBus
Dr. Alicia Santiago, Program Officer at the National Science Foundation
Moderated by Karen Peterson, Chief Executive Officer at the National Girls Collaborative
MOST is working to advance STEM Learning Statewide By:
Sharing info on grants, new research, and OST STEM events and programming through our E-Newsletter, Website and Social Media.
Providing STEM AmeriCorps VISTAs to enhance program capacity building and resources
Serving on the Executive Committee for BmoreSTEM - Baltimore's STEM Ecosystem effort.
Supporting STEM Partners on Quality & Data Collection Supports in partnership with Partnerships in Education and Resiliency (PEAR)
Launching new initiatives as part of the national Million Girls Moonshot project to attract and engage girls in STEM.
Visit our Youth Development resources page for additional STEM resources.