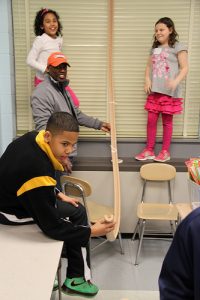 As part of our Millions Girls Moonshot initiative MOST & Maryland MENTOR are partnering to provide training focused on STEM and Mentoring with an emphasis on Women in STEM in March & April - details to come.
STEM in OST is a bridge between youth development and education that offers young people "hands-on, minds-on" intentional and relevant learning opportunities. The OST environment is perfectly suited for students to pursue STEM avenues and inspire further exploration of STEM careers.
MOST is working to advance STEM Learning Statewide By:
Sharing info on grants, new research, and OST STEM events and programming through our E-Newsletter, Website and Social Media.
Providing STEM AmeriCorps VISTAs to enhance program capacity building and resources
Serving on the Executive Committee for BmoreSTEM - Baltimore's STEM Ecosystem effort.
Supporting STEM Partners on Quality & Data Collection Supports in partnership with Partnerships in Education and Resiliency (PEAR)
Launching new initiatives as part of the national Million Girls Moonshot project to attract and engage girls in STEM.
Visit our Youth Development resources page for additional STEM resources.