Get on the MOST Map! Campaign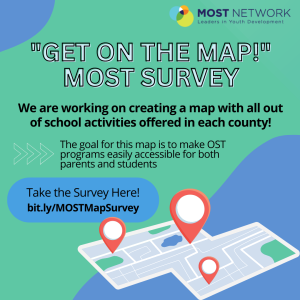 Get on the MOST Map Campaign 2023
At Maryland Out of School Time (MOST) Network, we believe that all children should have the same opportunities to live a healthy and productive life. Our goal is to end disparities in youth development by improving the quality and reach of programs that offer additional opportunities to young people beyond the traditional school day and school year.
Our Get on the MOST Map campaign aims to bolster our stakeholders to create a map of Maryland's OST landscape, which will be accessible to program partners and community members on our website. We envision Maryland as a place where all students can explore, create, and achieve their full potential.
Help our stakeholders connect communities by reducing learning loss and improve #MDLearning by taking our survey.
Take our survey here: bit.ly/MOSTMapSurvey