MD Coalition for Community Schools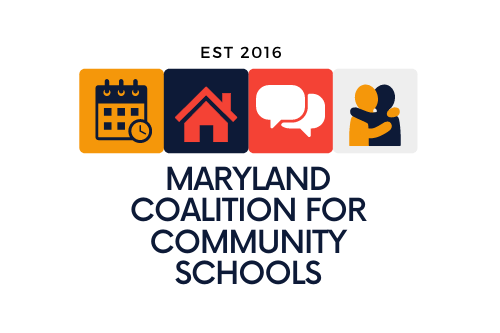 About Community Schools in Maryland
A Community School is a place-based strategy that aims to make the school building a hub for community resources and reinvestment. Rather than an institution where teachers teach and students learn, Community Schools provide a wealth of resources to meet the needs of students and families including health and social services, and community engagement and development. This holistic approach leads to better student outcomes such as increased attendance and academic success and strengthens community fabric.
In Maryland, a statewide coalition - MD4CS - has formed to advocate for further implementation of the Community Schools model by tracking legislation, designing strategy and communications, and working with policy makers to rethink the educational experience for the state's youth.
Our goal is to reduce opportunity gaps that exist in low-income areas by assessing the needs and assets of the community and forming intentional partnerships with local, community-based organizations to eliminate the out-of-school barriers to learning.
Learn More About the Statewide Coalition
1. Access Meeting Minutes & Community School Resources
2. Find a Community School on our Map
3. Subscribe to the MD4CS Newsletter
4. Follow MD4CS on social media